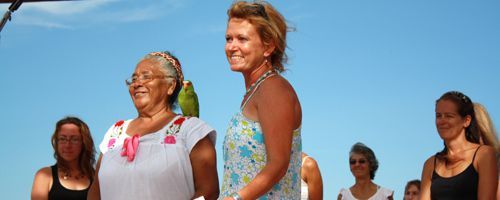 Photo Credit: Michele Kinnon, Life's a Beach Blog
Just thought I would share and spread the news from
Life's a Beach Blog
: A fantastic women's retreat is planned for March 8, 9, 10th!
Here's A Quick Summary:
On March 8, 9 and 10 2012, a special 3-day International Women's Day Conference, We Move Forward, is taking place on Isla Mujeres. The conference is for women interested in life-long learning, personal and professional growth at all stages of life. It is a well blended event that combines daily inspirational speakers with practical interactive workshops, movement sessions (yoga, pilates, batuka), a connection/networking session, local entertainment and a history lesson from a Mayan elder.
For a limited time, the event organizer, Retreats on Isla is currently offering reduced enrollment for WMF 2012! Women who register before January 31st will receive a $212 discount off the cost of the event. Proceeds from the event go to support local charities and sponsorship for local women who otherwise could not afford such an experience.
Being a quaint tropical island is part of Isla's charm, and with this comes limitations to the number of women it can accommodate during this busy time of year. The event offerings are generous and economically priced so if your head and heart are telling you to register we encourage you to do so quickly.
Go to this link for more info:
http://www.buyplaya.com/blogs/rob_kinnon/archive/2012/01/18/we-move-forward-retreat-isla-mujeres.aspx
Twitter and Facebook Readers can view the original post and leave comments at: PuertoMorelosBlog.com.

Amber Pierce-Schulz is the Broker/Owner of Mayan Riviera Properties, specializing in Puerto Morelos Real Estate and Puerto Morelos Vacation Rentals. We are members of AMPI and Federally Certified Realtors.