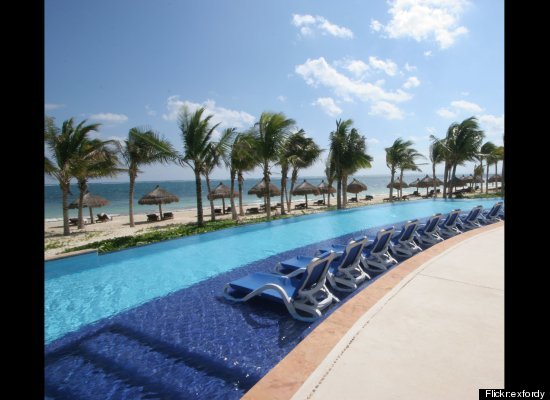 Photo Credit: Triposo
Hi Everyone! Lots of things going on in Puerto Morelos as high season starts to crank up, so I thought I'd give you the run down:
Puerto Morelos on Triposo's Top 10 Places to Go in 2014!
Mayan Riviera Properties has a new website!
If you haven't had a chance to see
the new website
, stop by to check it out! We are still fine tuning, but it's looking good! The website allows rental guests to search by date and book online. Way easier!!!
Rain, Rain, and More Rain
So, if you weren't in PoMo over the summer, and you haven't made it down yet to escape the cold, then you may not know that Puerto has been SOCKED with rain. Oodles of rain. ...And it's still raining.
So, the roads are a mess. Hopefully, they'll get them fixed as soon as we can dry-the-heck-out. All that being said, the food's still great and the company isn't half-bad either. So, we'll leave a light on for you! ;)
IVA Tax is going up
There has been a National Tax Reform, on the heels of a Anti-Money Laundering Act, passed at the end of November. While we will be having our 1,349,029 meeting this month to try and figure out what it all means, here is what I can share with you now:
IVA the 11% tax that is applied to most goods and services is going up to 16%. There were only a few border states that had the 11% tax rate and Quintana Roo was one of them. They voted to have all of the States have the same tax rate. So, ours is going up to 16% as of January 1st.
All companies are going to be required to have electronic facturas -- even the little guys, as they have eliminated the minor business category called the "pequeño contribuyente". So, that means everyone that you pay should be giving you a factura for their service. Yes, everyone.
They have eliminated the IETU tax (alternative flat tax) as well as the IDE tax (tax on cash deposits).
New Lecture Series at Layla Learning Center
Steve and Robin have a lecture series going at their newly opened Layla Learning Center (aka The Dune Restaurant, by day). Check out our
Puerto Morelos Events Calendar
for the schedule in December!


Elections Are Sunday
PM is voting for a new Alcalde (loosely translated as "mayor") this Sunday. Things to know: 1) That is what all of those loudspeakers are. 2) Dry laws will be in effect. Plan accordingly. 3) Since the government is changing, it's been nearly impossible to determine if there are any Christmas/New Year events planned. So, just keep your eye open, and I'll let you know if I hear of anything.
Those of you who received this post via email, some embedded items -- like videos -- cannot be seen. You will need to click the title of the blog to be taken directly to the post to view the full content.

Twitter and Facebook Readers can view the original post and leave comments at: PuertoMorelosBlog.com.

Amber Pierce-Schulz is the Broker/Owner of Mayan Riviera Properties, specializing in Puerto Morelos Real Estate and Puerto Morelos Vacation Rentals. We are members of AMPI and Federally Certified Realtors.